Strollin' Schenk's Corners – Friday, May 22nd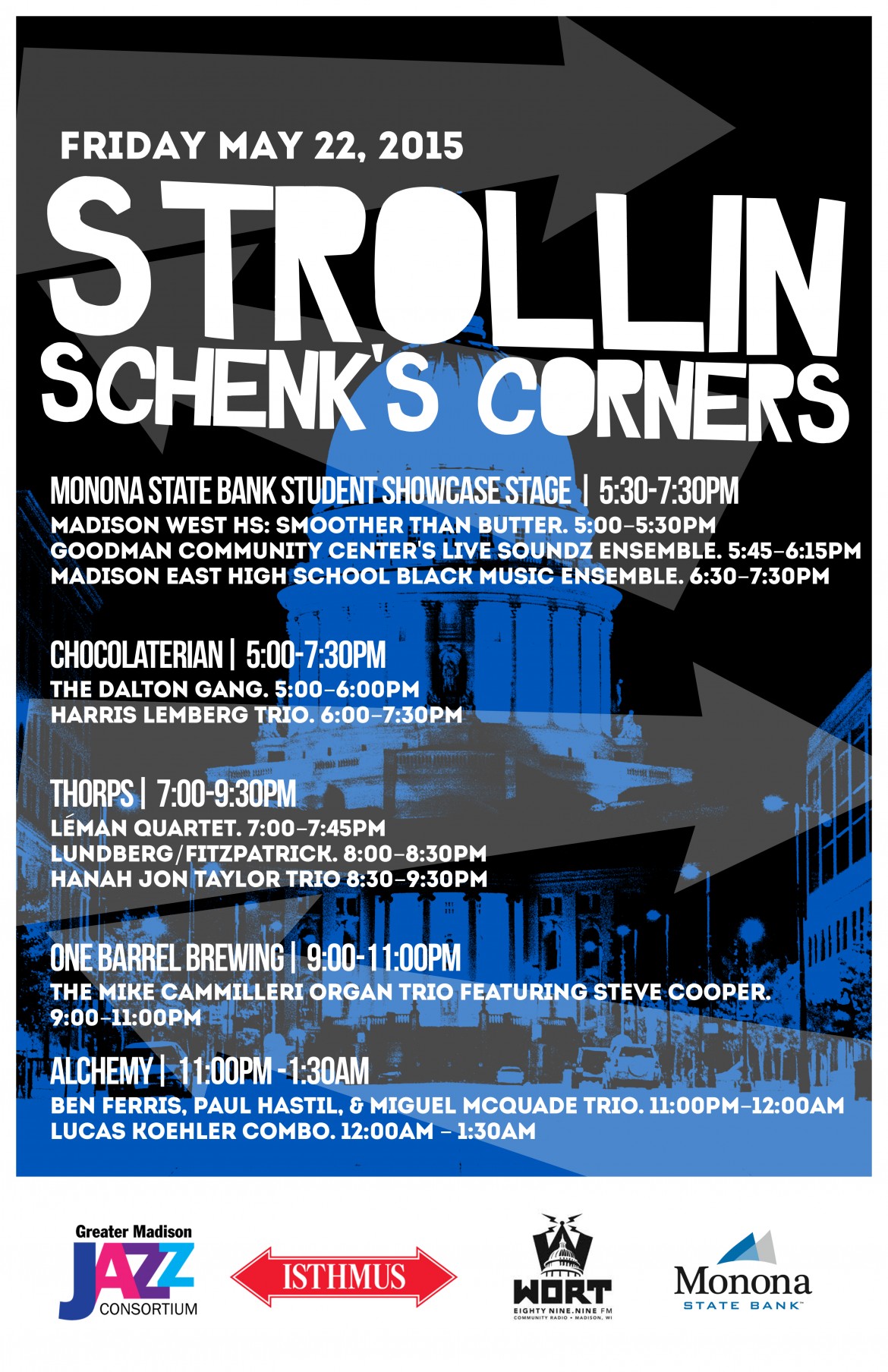 Here is the current lineup… check back for updates!
Hanah Jon Taylor Trio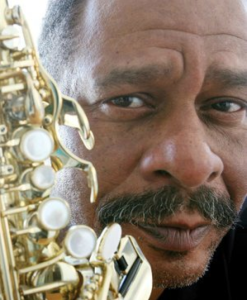 Hanah Jon Taylor is arguably the preeminent saxophonist and flutist in Madison jazz and a leading catalyst, organizer and educator in inter-arts programming. Taylor was founder and director of The Madison Center for the Creative and Cultural Arts, which offered concerts and multi-arts classes. Taylor also directed Freedom Fest, which presented such world-class performers as Archie Shepp, Sonny Fortune, Richard Davis, Cecil McBee, Edward Wilkerson, acclaimed Chicago singer Dee Alexander, and Corey Wilkes and Roscoe Mitchell of the legendary Art Ensemble of Chicago.
With a career spanning over 30 years, Mr. Taylor has appeared with songwriter/folk artist Richie Havens, percussionist Steve McCall, the Colson Unity Troupe, saxophonist Roscoe Mitchell, pianist Jobic LeMasson, the Ethnic Heritage Ensemble, bassists Rafael Garrett and Malachi Favors, and the Great Black Music Ensemble of Chicago.
Taylor moved to Madison years ago from Chicago and has been a long-time member of theinfluential Chicago-based Association for the Advancement of Creative Musicians (AACM). He has performed worldwide with musicians ranging from Woodstock-famous singer-songwriter Richie Havens to Nina Simone, Miles Davis, and many of the AACM's leading lights. Taylor has a substantial reputation in Europe, Asia and the Americas.
The Léman Quartet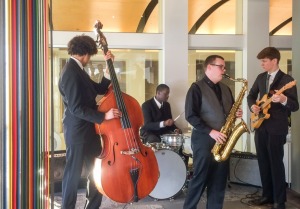 We are the Léman Quartet, a group of young, up and coming jazz artists who preform jazz standards and classics ranging from Ella Fitzgerald and Louis Armstrong to Dexter Gordon and Hank Mobley. We are all currently members of west high school, and are deeply involved in all of its music programs. Our numbers include Adam Juimaleh on acoustic bass, currently a member of the Madison youth symphony orchestra. Joseph Poznick on drums, who plays regularly with Joey B Banks and the Black Star Drum Line. Xavi Lynn on guitar, a member of the 2014 Wisconsin High School Honors Jazz Band. And Jack Smith on tenor saxophone, MAMA award winning member of the Gabe Burdulis Band. We are happy to be joining strollin schenks corner and can't wait to hear all of the amazing musicians playing along side us.
Lundberg/Fitzpatrick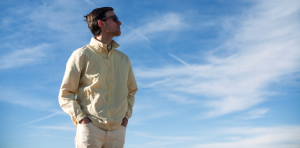 Rob Lundberg's solo double bass work brings together backgrounds in classical music and improvisation, as well as a keen interest in minimalism and the timbral extremes possible with bowed, stringed instruments. Additionally, he draws on his passion for conceptual and contemporary art in the construction of his pieces and pairings with his photographs. His most recent collection of pieces uses live and prerecorded double bass performances played through a unique, dual-amplifier system. For the Strollin performance, Lundberg will be joined by Andrew Fitzpatrick – of Cap Alan, All Tiny Creatures, Volcano Choir – on live processing and synthesis. This will be their first public collaboration.
Ben Ferris, Paul Hastil, Miquel McQuade
Ben Ferris is one of the busiest bassists in the greater Madison area. A former student of Richard Davis, Ben is now an educator and performer in his own right. Currently, Ben is the big band director at Memorial High as well as a music teacher in the Madison School District. Ben performs regularly with is Quintet and Octet. For this performance, Ben will be joined by Paul Hastil on fender rhodes and Miguel McQuade on drums.
The Lucas Koehler Combo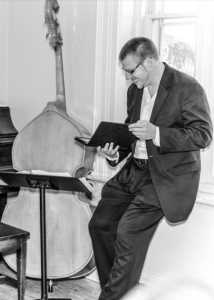 Madison's latest original Funk/Jazz band featuring Steve Banik on piano and Matt Hund on Drums. Lucas Koehler is a music teacher in Madison WI. Graduated Edgewood College in 2010 with a B.S. in music business. Since 2002, Lucas has played with the Edgewood Chamber Orchestra, The Edgewood Jazz Big Band, The MATC Communtity Orchestra, The Highway to Heaven Gospel Big Band, The Jeff Personto Jazz Orchestra, The Madison Melaphonium Big Band, two years touring with Unified Soul, Nuggernaut, and was a founding member and band leader of the Weapons of Mass DeFunktion from 2007 until 2011.
Harris Lemberg Trio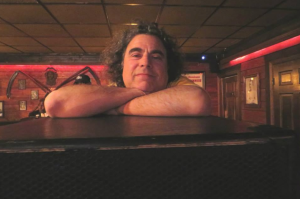 Harris Lemberg Trio features Rand Moore on drums and John Widdicombe on bass.
Harris Lemberg grew up on the Jersey Shore and the beauty of the ocean has had a dramatic impact on his music. He started improvising and composing at the piano at age 4 and began formal piano studies at 5, which continues to this day. In addition to classical piano, he studied jazz, theory and composition.
Harris attended the University of Wisconsin where he obtained a BA in Philosophy. He never needed a student loan because he played music regularly during college.
In 1972 Harris was Clyde Stubblefield's pianist in the house band at The Jazz Workshop in Madison. In 1974 Harris was the musical director for singer Geoffrey Stoner. Harris recorded the seminal album "Watch Out" with Stoner on Ovation records. This LP has garnered a cult following. He composed 3 songs on the album including the well known "Bend Your Head Down Low".
Harris has performed with Luther Allison and toured with Bryon Lee and Tracy Nelson. He was the jazz singer Jan Wheaton's piano accompanist for over 10 years. Harris is still playing and composing full time.
The Dalton Gang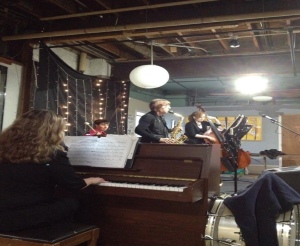 The Dalton Gang consists of Rhonda Chalone, kybd and vocals, Nicky Sund, drums, Hope Quade, bass and June Dalton on saxophone and clarinet. The Gang performs at private events and most recently, the Harlem Renaissance Museum in Madison.
The Mike Cammilleri Organ Trio Featuring Steve Cooper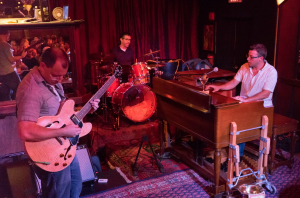 Mike Cammilleri – organ
Vince Jesse – guitar
John Pollard – drums
When asked about the sound of the Organ Trio Mike answers "We sound like brandy tastes". For this Strollin' performance the trio will be joined by saxophonist Steve Cooper from famous Wisconsin jazz act The Jazz Orgy.
The East High School Black Music Ensemble
This new student ensemble is run in the tradition of Richard Davis' UW Black Music Ensemble. The group is under the direction of Wilder Dietz, one of Ricard Davis' former BME student.
Smoother Than Butter
This jazz combo from Madison West High School feature some young jazz enthusiast playing some classic jazz tunes. Smoother Than Butter is:
Suzy O'Meara Oboe
Julia Russel Clarinet
Amaan Stukel Bass
Grant Witynski Trumpet/Vocals
Laura Kiernan Piano
Connor Psyck Drums
Kate Schultz Alto Sax
Goodman Community Center's Live Soundz Ensemble